 Two years on from 'Kitchen Nightmare', Midlands Curry Lounge is a hit!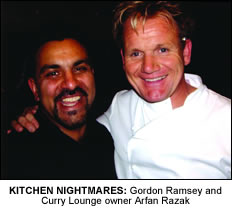 A MIDLANDS curry house which was saved from closure by Gordon Ramsey is celebrating two years to the day it appeared on his popular Kitchen Nightmares programme.
Nottingham's Curry Lounge, owned by keen restaurateur Arfan Razak, became the first Indian venue to take part in the show in August 2007.
Despite early promise when the restaurant opened, customer numbers soon fell and it was in danger of closing.
But two years on since super-chef Gordon Ramsey spiced things up at the restaurant, Curry Lounge has gone from strength to strength.
Owner Arfan Razak, who is known to staff and customers as Raz, took Gordon's comments in his stride, and as a result, has been winning a plethora of national awards and praise from curry-aficionados since.
"As Gordon wasn't able to return to our city in April for the one-off programme originally organised by the production company, we thought it would be fitting to hold a two-year anniversary celebration in his honour," Raz said.
To celebrate their milestone staff at Curry Lounge will recreate the special cricket match and barbecue with the local Sikh Union Nottingham Hockey & Social Club which was featured in the Kitchen Nightmare programme back in 2007.
 "Gordon's advice was invaluable to turning the business around," Raz added.
"He established that for us to succeed, we had to produce authentic regional cuisine, instead of serving up such an extensive menu. He also made me personally realise that organisation and communication is key – I have a lot to thank him for."