 Muslim Hands commission Mohammed Ali for global project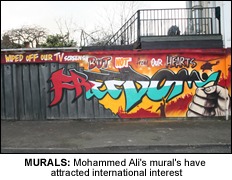 MUSLIM Hands has commissioned a Birmingham graffiti artist to paint his unique, thought-provoking murals in cities across the globe.
Award-winning artist Mohammed Ali, better known through his work Aerosol Arabic, has spent the best part of his adult life creating a modern form of Islamic art through graffiti.
Earlier this year he painted a number of murals across Birmingham supporting the Palestinian cause.
Now Muslim Hands is offering individuals the chance to have an Aerosol Arabic mural painted on their walls.
Speaking to The Asian Today, Mohammed said: "By working with Muslim Hands, I hope to present people with alternative messages to think about. 
"I like to put it as, me creating my own billboards. We see the latest products, aftershaves, cars, designer labels and lots of other things we don't need, in our faces on billboards. So I'm presenting a different set of messages into the forefront, onto walls of major streets for all to see."
The murals have become a major part of Birmingham having attracted international attention when they first appeared at the beginning of the year.
Recently Mohammed delivered a bus-tour of the murals to 35 international visitors.
It was an experience, Mohammed described as "surreal".
"The murals in Birmingham have attracted widespread attention. I took 35 international visitors from every corner of the globe – from Jews to Palestinians – on a bus-stop tour of the murals, and it was a totally surreal experience to have such a mix of people being given an alternative guide to the city."
A spokesperson for Muslim Hands said: "Mohammed's murals have a universal message for the whole community regardless of their faith."