 Dairy bosses who stole from rival lose High Court case and ordered to pay out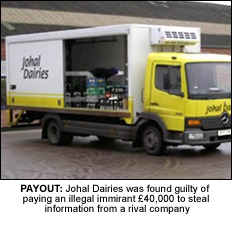 A MIDLAND dairy company, who tried to drive a rival out of business by paying an illegal immigrant thousands of pounds of money to steal information from them, has been ordered by a High Court judge to hand over £200,000 to its victim.
Wolverhampton based Johal Dairies attempted to sabotage rival dairy company JN Dairies by paying illegal immigrant Gubir Singh £40,000 to steal information on its customers and pricing structures. They then used the information to try and poach customers.
The company was found to have acted unlawfully in its actions following an extraordinary High Court trial lasting eight days earlier this year.
Johal Dairies director Surbjit Johal, who denied the accusations, had attempted to appeal against the judgment but was refused by a High Court Judge who ruled the appeal had no basis.
Judge David Cooke ordered Johal to pay JN Dairies' legal costs and an up front payment of £200,000.
A further hearing will take place to determine the level of damages JN will be awarded.
The extraordinary lengths Johal went to drive their main rival out of business was revealed at Birmingham Civil Justice Centre in March this year.
The astonishing story of the 20-year-rivalry between the two Midland-based companies came to a head on 8 November 2008 when the employment of delivery driver Gubir Singh was terminated by JN because he was unable to provide the necessary documentation to prove his legal status in the UK.
Two days later, prior to the firm making its regular night time deliveries, Mr Singh trespassed into its Wolverhampton distribution centre and stole all of the delivery invoices which detailed the volumes, and crucially the prices, which it was supplying its customers.
Mr Singh, who was not represented at the trial and is believed to returned to India, then passed these on to Surbjit Johal.
Armed with the valuable information Johal then went about trying to poach customers from JN.
A number of customers testified at the trial saying representatives from Johal had offered them free milk to switch suppliers – a practice which is strongly condemned by The National Farmers Union
Speaking earlier at the end of the High Court trial, Jaspal Singh Nijjar, Director and Founder of J.N.Dairies said: "We are delighted to have won this case. We do not have a problem with fair competition, and indeed have been successfully competing with Johal Dairies and other companies for a number of years, but unlawful activity to attack our business will not be tolerated by J.N.Dairies, nor will the law allow anyone to get away with it."