 "We will insure final gang member is put before the court", says Detective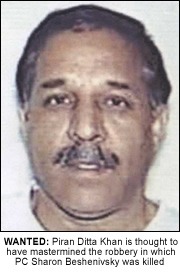 DETECTIVES in Bradford have vowed to hunt down the final gang member accused of gunning down PC Sharon Beshenivsky.
Piran Ditta Khan, 60, is thought to have masterminded the robbery at the Universal Travel Agents in Bradford in November 2005 in which PC Sharon Beshenivsky was killed.
Khan is the final gang member wanted in connection with the robbery, the murder of PC Beshenivsky and attempted murder of her colleague PC Teresa Milburn.
He is thought to have fled to Pakistan shortly after the robbery and detectives have vowed not to close the case until he is apprehended.
"This investigation has not yet been completed and we intend to that the last remaining suspect Piran Ditta Khan is arrested and placed before the courts," Detective Superintendent Andy Brennan said following the conviction of another gang member yesterday.
At Newcastle Court Mustaf Jama was jailed for life for his part in the robbery.
He was found guilty of murder, robbery, possession of firearms with intent to endanger life and possession of a prohibited weapon and sentenced to life in prison.
Jama is the sixth man to be convicted of PC Beshenivsky's death.
It took detectives two years to bring Jama to justice after he fled Britain shortly after the robbery.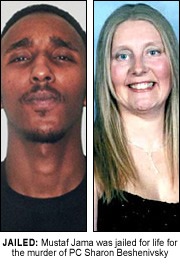 He was located in his native Somalia where he was arrested and extradited to Britain to face trial.
Speaking shortly after Jama was jailed for life, Detective Supt Brennan said: "This group of men had already inflicted serious injuries on some of the staff within the travel agent's. They could have left the premises without confronting Police Constables Sharon Beshenivsky and Teresa Milburn.
"The robbers were armed with a 9mm pistol and a Mac.10 machine gun. The Officers were shot at close range, in a cold-blooded and callous manner, leaving one dead and another seriously injured.

"I hope that Paul Beshenivsky and his family, together with PC Teresa Milburn, who has again had to relive the incident whilst she gave evidence during the trial, and the staff from the Universal Express Travel agents can take some additional comfort in the court result, knowing that Jama will be joining those already convicted in serving lengthy prison sentences."

Anybody with information on Piran Ditta Khan is urged to contact West Yorkshire Police on 01274 373700 or to call Crimestoppers, anonymously, on 0800 555 111.