 Boxing's 'match of the century' could happen, admits promoter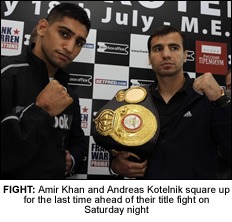 FRANK Warren says he has no problem with Amir Khan fighting Ricky Hatton – as long as the Bolton star wins a world title first.
Khan, 22, challenges for his belt at world level on Saturday night when he tackles WBA light-welterweight champion Andreas Kotelnik.
And with Hatton regarded as one of the best light-welterweights in the world, there has been plenty of talk of a possible showdown between the Hitman and Khan should Amir emerge victorious at the MEN Arena, Manchester.
It would be a money-spinning showdown that would have the country gripped.
"Let's see if Amir gets the belt first," said Warren, who has made no secret of the fact he thinks Hatton should quit the sport following his defeat against Manny Pacquiao.
"But it's a great fight. I think personally Ricky Hatton should retire but if he wants to fight, then why not? It's a great fight.
"I think (Khan would beat Hatton), I think he is the man of his time but he's got to get through Kotelnik first. That's the most important thing."
Warren's comments came as both boxers geared up for Saturday night title showdown.
Meanwhile Khan says he will take a leaf out of the Hitman's book on Saturday night and employ a body-snatching technique against Kotelnik.
Such tactics will be the best way to break down the champion's tight guard.
"Kotelnik is a fighter who keeps his guard very high so I think the body shots are going to work as well as the angles, I've got to hit and move," Khan told Sky Sports News.
"In and out movement is also going to work, but he's a counter fighter so I have to be one step ahead of him every time.
"He's a tough fighter he knows what I'm good at doing so we had to change a few things in the camp and we're ready for the fight now.
"The key to victory is being patient and using my brains, being careful in the fight and just not making the mistakes we made in the last few fights.
"Me and Freddie have got a game plan, we've got a plan A and a plan B, and I'm sure it's going to work for us."
Khan makes his debut at light-welterweight for the fight, but says the new division suits him down to the ground.
"I've never trained so hard," he said. "With every fight I'm getting better and better and I'm going into a different weight category to fight for a world title. That has only made me train harder and motivate me more.
"Freddie (Roach) and I are very confident for this fight. I think his style is made for mine and hopefully we're going to come out as the winners."
Meanwhile Kotelnik played as cards close to his chest, as he has done ever since the showdown was announced earlier this year.
"Every fight is very important to me and for every fight I train really hard," he said. "I will only be able to answer whether Khan is my hardest opponent after the fight.
"Nobody can make any predictions, it all depends on what opportunities my opponent gives me to do what I want to do."