 Fresh image released as police offer £10,000 reward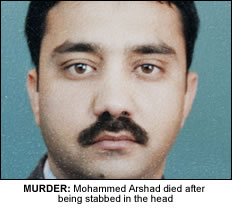 POLICE investigating the murder of taxi driver Mohammed Arshad have released CCTV images of a man believed to be his last known passenger.
The man, known as Pete, has been the subject of a lengthy appeal by detectives.
West Mercia Police is also offering a £10,000 reward for information which results in the conviction of the person responsible for Arshad's murder.
The father-of-three was found fatally stabbed in Wast Hills Lane, Kings Norton, on the evening of July 22. He had been working that evening as a self-employed taxi driver for A Cars based on Pershore Road, Birmingham.
At 8.19pm on July 22 the taxi firm received a call from a telephone kiosk outside the Spar shop in Monyhull Hall Road. The caller gave his name as Peter and stated he was on Lindsworth Approach and wanted to be picked up outside Broadmeadow School on Monyhull Hall Road to go to Kings Norton.
The fare was allocated to Arshad who collected the passenger as requested from outside Broadmeadow School ten minutes later in his blue Ford Galaxy.
At 8.36pm Arshad's taxi was seen by a witness in Wast Hill Lane. The vehicle was seen turning in the road before driving off towards Redhill Road.
The witness then saw Arshad lying on the verge seriously injured and police and ambulance were called. Arshad's taxi was found a short time later about 1 mile away in Shannon Road on the Hawksley Estate.
Arshad was transported to Selly Oak hospital with serious head injuries. He died a few hours later and a subsequent post mortem examination revealed he had multiple stab wounds to his head, one of which had punctured his skull into his brain.
Detective Superintendent Sheila Thornes, who is leading the investigation into the murder appealed for anyone else with information that could assist the murder investigation to contact police.
She said: "A number of appeals have been made for information from which we have received an excellent response from the public and a number of witnesses have come forward. We would like to thank all those witnesses who have already come forward and provided information.
"We are still appealing for the male calling himself Peter who made the telephone call from the kiosk in Monyhull Hall Road at 8.19pm that evening to come forward.
"A CCTV trawl of the area has revealed some images of that person and we are appealing to him or anyone who knows him to contact the incident room.
"Mohammed Arshad was going about his normal business working hard to provide a service to his community and to support his wife and three small children. In addition he was supporting other family members in Pakistan and his death has had a devastating impact upon his family and friends and the taxi driving community.
"The person who carried out this attack is highly likely to have had blood on his clothing and if you know anyone who came home that night with blood on them please contact the incident room. If they are not responsible they can easily be eliminated from our inquiries."
Anyone with information should contact West Mercia Police or Crimestoppers anonymously, quoting Operation Tilt.
Related Articles