 Brit Asia Super Star hoping the find singing sensation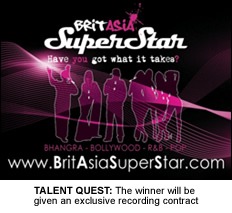 A NATIONWIDE search has been launched to find a British Asian singing star.
The show, which will be produced and screened by Brit Asia TV, is the first ever to appeal to the British Asian community.
It is expected to follow the format of the popular prime time ITV show 'X-factor' with a celebrity panel and public voting.
The show will be open to all singers, duets and groups over the age of twelve across four genres – Bhangra, Bollywood, R&B and Pop, a spokesperson said, adding it would be a "once in a lifetime opportunity" for budding singers.
"The exciting contest will give budding singers the opportunity to not only show-off their talents to a studio audience and on national TV, but also the chance to perform in front of and work with leading British Asian artists, music industry representatives and celebrities," a spokesperson for Brit Asia TV said.
"Amateur or professional, bathroom singer or trained vocalist, people and groups of all standards are invited to participate and showcase their talents for the chance to become a super star. "