 Community champ Gurdev Kaur honoured by the Queen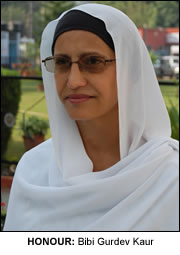 A BIRMINGHAM woman who has worked tirelessly to help raise the self esteem of Asian women across the West Midlands has been honoured with an OBE in the Queens Honours list.
Bibi Gurdev Kaur told the Asian Today she was "deeply honoured" to be recognised for her work.
The twice-yearly Queen's list recognizes achievements in all walks of British life, from the rich and famous to community workers.

Ms Kaur will travel to Buckingham Palace later this year from her home in Birmingham to receive the honour.
"I feel deeply honoured to receive the award, it was totally unexpected," Ms Kaur said.
"My family are very excited and on top of the world. They feel as they have been honoured too."
Her charity Sikh Nari Manch, launched in 2002, helps countless Sikh women across the Midlands to play active roles within their communities.
Four years after the charity emerged it was awarded a Queen's Award for Voluntary Service for its continued positive work in the community.
As well as the charity, Ms Kaur is one of the Sikh community's most active female role models.
She leads a Sikh Women's Choir which was founded in 1998 and has played at the Royal Albert Hall in the presence of HRH Prince Charles, and has received numerous awards both in the UK and in India for her work.