 Men attacked publishers home over release of controversial book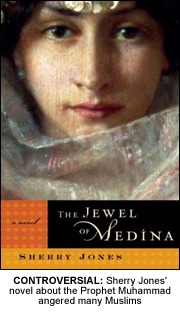 TWO men who set fire to the home of a publisher after he announced plans to release a controversial book have been found guilty.
Ali Beheshti, 41, and Abrar Mirza, 23, planned the arson attack on the Islington-based Gibson Square Books Ltd after discovering it was going to publish The Jewel of Medina – a controversial book about the Prophet Mohammed and his young wife.
Beheshti and Mirza poured diesel through the door of the Islington-based Gibson Square Books before setting it alight. They were arrested after being stopped by armed Met Police officers in an intelligence-led operation as they attempted to flee the scene.
Beheshti, 41, of Tavistock Gardens, Ilford, and 23-year-old Mirza, of East Field Road, Walthamstow, had admitted conspiracy to commit arson, being reckless as to whether life was endangered, at an earlier court hearing on 21 April.
A third man, 31-year-old Abbas Taj, had pleaded not guilty to the same charge, but was today found guilty by a jury after a trial at Croydon Crown Court.
The court was told Taj, of Field Road, Forest Gate, had dropped Beheshti and Mirza close to Lonsdale Square just before they attacked the property. He was to be their getaway driver, but was stopped in his car and arrested by armed police near Angel tube station in the early hours of September 27, 2008, just after they had set fire to the premises.
The three will be sentenced at a later date.
Deputy Assistant Commissioner John McDowall, head of the Met's Counter Terrorism Command and Senior National Co-ordinator Counter Terrorism, said: "These men planned to carry out arson as a violent reaction and protest against the publishing of a book.
"They did not care whether anybody would be killed or injured when they poured diesel through the letterbox and set fire to it.
"Photographs, tapes and documents found at their homes showed the violent mindset of this trio of arsonists.
"This was a professional, proactive investigation which left Ali Beheshti and Abrar Mirza with no choice but to admit their guilt when faced with overwhelming evidence.
"Abbas Taj denied being a part of the conspiracy, claiming he was an innocent party who was merely giving his friends a lift. But the jury has seen through his lies and convicted him today."
Croydon Crown Court  heard how Beheshti and Mirza were seen carrying out reconnaissance 'drive throughs' of Lonsdale Square and its surrounding area in the weeks leading up to the attack.
Beheshti was also caught on CCTV filling a fuel can with diesel. He later put the can into the boot of Taj's car, which again was caught on CCTV cameras.
The three defendants were seen meeting before the September 27 attack and drive between various locations. At one point Beheshti changed his clothes in an attempt to disguise himself.
Following their arrests, searches were carried out at the men's home addresses.
A computer found during searches at Mirza's address found research had been conducted into Gibson Square Books, including a Google Earth Plus map search. The computer had been cleaned to prevent some material being recovered.
Photographs were found on a computer at Beheshti's home of him holding a burning cross at a protest outside the US Embassy in May 2005. Beheshti suffered burns to his hands during the protest.
Taj's car was found to have Jihadi tape recordings in it, as well as mobile phones belonging to Mirza which contained photographs that Mirza had taken on a previous reconnaissance of Lonsdale Square on September 9 2008.