 Shahid Malik vows to clear name as PM orders inquiry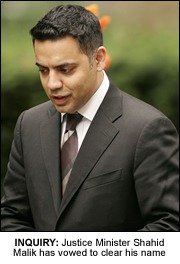 JUSTICE Minister Shahid Malik has resigned from the government following claims made about his expenses by the Daily Telegraph newspaper.
Mr Malik stepped down from his post just hours after defending himself over alleged expenses claims totalling over £66,000 over a three year period.
He is the biggest casualty of the expenses scandal which has engulfed the country over the past week.
An inquiry into Mr Malik's actions will investigate claims he failed to declare a subsidised rent on a property the MP lists as his main home.
Prime Minister Gordon Brown ordered the inquiry by watchdog Sir Philip Mawer into an allegation by the newspaper that the MP paid less than £100-a-week rent on his home in his Dewsbury constituency.
The Ministerial Code of Conduct states that members of the Government must not use their position to gain any financial advantage.
But in a statement Mr Malik said he welcomed the inquiry and was "confident" he had not breached the code of conduct.
"I spoke with the Prime Minister this morning and we agreed that the best way forward in the face of this specific allegation was for me to step to one side as an interim measure and allow Sir Philip Mawer to look into the matter," he said.
"I'm pleased to have this opportunity to clear my name.
"I would like to make it clear that this inquiry has nothing whatsoever to do with my expense claims but relates to an allegation regarding my rent which, if true, would breach the ministerial code.
 "I am confident that there has been no such breach and look forward to the findings of the inquiry so that I can continue to serve my constituents as their MP and the country as a minister with my head held high," he added.
Less than an hour before his resignation Mr Malik hit back at reports in today's Daily Telegraph detailing his expense claims over the past three years.
The newspaper, whose week-long investigation into MP's expenses has rocked the country, claimed the Dewsbury MP claimed the maximum amount allowable for a second home, amounting to £66,827 over three years.
Last year, he claimed £23,083 from the taxpayer for his London town house, equivalent to £443 per week.
Reacting to the reports Mr Malik insisted he had done nothing wrong saying: "I have absolutely nothing to apologise for. I have done nothing wrong.
"I have not been at the periphery of the rules. I haven't abused the rules, I have been absolutely at the core of the rules."