 Shahid Mohammed wanted over fatal house fire that killed eight family members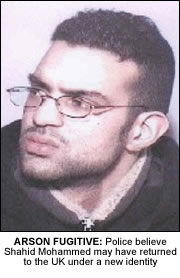 A MAN wanted in connection with an arson attack which claimed the lives of eight family members seven years ago is believed to be back in the UK, police have said.
Shahid Mohammed, 26, was arrested during the initial phases of the murder inquiry following the fatal house fire in Birkby.
Eight members of the same family, including a six month old baby were killed in the fire.
Nefessa Aziz, 35, Muhammad Ateeq-ur-Rehman, 18, Tayyaba Batool, 13, Rabia Batool, 10, Ateeqa Nawaz, 5, Aneesa Nawaz, 2, and 6 month old Najeeba Nawaz all died in the fire in Osborne Road, Birkby, in the early hours of Sunday May 12th, 2002. 54-year-old Zaib-un-Nisa died in hospital a week later.

Following his arrest, he was released on bail but fled shortly after.
Detective Chief Inspector John Halstead, who is leading the investigation said while previous information had indicated he had fled to Pakistan, new developments have led them to believe he has returned to the UK under a new identity.
"Information we have previously received has indicated that Shahid Mohammed could have been living in Pakistan; however, we have had information to suggest that he may have been back to the UK assuming a different identity," he said. 

"Unfortunately, we have had nothing to substantiate these claims and no evidence to support it. We know he had strong links with London, Birmingham, and Leicester. If indeed, Shahid Mohammed has been back in this country or has been in any other country, then we need to know about it.

"I would particularly appeal to the friends and relatives of Shahid Mohammed. If you know where he is or hold any information which could help the police in their investigations, then please call us immediately.
"It has been seven years, seven years that the Chisti family have had to live with the trauma of this incident. They still can not come to terms with what has happened and I would ask those who have information to examine their conscience.
"Do not conceal information from the police, you can not live with this on your mind forever and I would suggest you do the right thing and come forward.
"End the suffering for the Chisti family. Even the smallest piece of information could help to take this forward."

Anybody with information can call anonymously though Crimestoppers on 0800 555 111.