 Group aiming to raise £50,000 for Gaza's orphaned children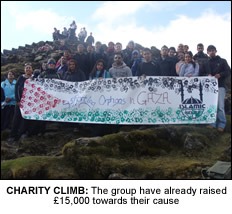 TWENTY novice climbers will attempt to scale the treacherous heights of Mount Sinai in the blistering heat, in a bid to raise much needed relief for the orphans of Gaza.
The team, made up of daredevils from across the country, will begin their grueling eight-day hike on 15th June. They will trek across desert and rock terrain in the suffocating heat as they make their way 228.5m up Mount Sinai.
Officially covering twice the size of Belgium, the trek isn't one for the feint hearted.
But for the team, the chance of raising vital funds for the children of Gaza will help inspire every member to reach the summit.
"The team was inspired by news coverage of the devastation caused by the recent war in Gaza. We were shocked by the reports of what was happening and we felt compelled to help, we decided we wanted to do something challenging that would raise much needed money," Group chair Sadia Sajid told The Asian Today.
"These orphans have had to witness at first hand the mass killing of their loving parents, dear family members and close friends. The challenge of completing the endurance trek up Mount Sinai seemed like the perfect choice for pushing ourselves to the limit for a really good cause," she added.
The group has already had plenty of training to prepare for the challenge – by scaling the heights of Britain's highest peak Mount Snowdon.
Over a hundred climbers raised a phenomenal £15,000 over the Easter break but more is needed if the team is to reach its target of £50,000.
Now the group has urged readers of The Asian Today to dig deep into their pockets to help Gaza's orphaned children.  
"The cost for each of the challengers to go and complete the challenge will be met separately so that 100% of the donations we raise go towards the actual cause," Sadia said.
"The charity benefiting from the fundraising activity is Islamic Relief, who have been working on the ground in Palestine since 1994 and whose ongoing commitment to help the people of Gaza will ensure the money raised goes to its target beneficiaries."