 Make Me White documentary to be screened in summer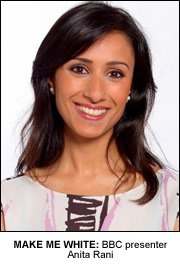 PRESENTER Anita Rani will explore the fascination with the skin lightening cosmetics in a BBC documentary set to be screened this summer.
The One Show presenter will look at the products and the companies behind what's reported to be a multimillion pound market, as well as meeting women – and men – who have embarked on a quest for lighter skin.
The show, called Make Me White, will see Anita start with her own mother's preference for lighter skin, looking at the pressures within her own Asian community to explore the reasons that drive a growing number of people to lighten their skin.
The documentary will also find out why some risk damage to their skin with illegal products that can contain harmful chemicals.
Illegal cosmetics are available under the counter in some Asian and Afro-Caribbean shops up and down the country. Many contain banned chemicals which pose health risks and can cause irreversible damage.
As part of her investigation, Anita will go undercover to investigate what is on the market and she will also speak with both the cream distributors and the magazines that promote and advertise skin lightening products.
"I have never understood why fair equals beautiful because I love being brown," Anita said. "Through this film, I will find out where this pressure to change your skin colour is coming from."