 City father gives thumbs up to Dhol world record attempt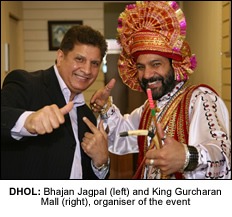 A BIRMIMGHAM father has backed a world record Dhol attempt set to take place in Birmingham next month.
Over 500 drummers will descend on Centenary Square, Birmingham on 2nd May in the hope of drumming their way into the Guinness Book of World Records.
The audacious world record attempt, organised by renowned Asian drummer Gurcharan Mall, will help raise money for charity – including the British Heart Foundation who were suggested by 55-year-old Bhajan Jagpal.
Mr Jagpal, from the Handsworth area of the city, was rushed to hospital earlier this year after suffering severe chest pains.
Quick-thinking doctors rushed Bhajan into theatre where he had two stents fitted.
"It was a great shock as I didn't know I had a heart problem until I got up one morning and experienced a severe pain in my chest. I went to the doctors and he did some tests, the next moment, I was being rushed into City Road Hospital for two stents to be fitted," Bhajan said.
"Thankfully, I have now fully recovered and resumed my normal active life but I wanted to raise awareness about heart disease and support the charity which has helped to save my life."
Organiser Gurcharan Mall, who grew up with Bhajan, added: "Anyone who is interested in playing the dhol, is invited to take part. You do not have to be an expert drummer, just willing to learn and participate in this wonderful event. We are encouraging people from all communities to join in and help us to achieve this world record and raise money for charity."
Drummers will be required to pay a £5 fee to take part in the world record attempt with all money raised going to , the British Heart Foundation, Barnado's, Macmillan Cancer Support and Pingalwara, a charity based in Punjab.
To find out more information about the event or register online, please visit the website
www.world501dholis.com
. If you need to hire a drum for the event, please call Gurcharan Mall on 07721 400422.