 'Brave' Tasawar Hussain honoured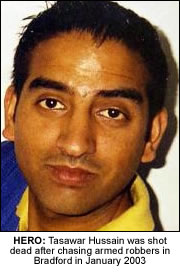 A MEMORIAL for a Bradford father who was brutally murdered whilst confronting a gang of armed robbers has been unveiled by his wife and two daughters.
Tasawar Hussain, 36, died after he was shot in the chest following an armed robbery at a travel agents in Bradford in January 2003.
Barry Elener, 42, and his father Derek Elener, 65, were jailed for life in March 2004 for Mr Hussain's murder.
Mr Hussain was posthumously awarded the Queen's Commendation for Bravery for his heroic actions.
The memorial, which was engraved with the inscription 'A truly brave man who acted in the interests of the public and justice', was unveiled in Bradford's Centenary Square by his wife Naila and two daughters Harrisah and Rafia.
The Lord Mayor of Bradford Coun Howard Middleton, who was also at the ceremony, said the city was "proud" of Mr Hussain.
"It is a great honour for me to be able to unveil this memorial to Tasawar," he said. "He was a very brave man who stood up to some very violent criminals and unfortunately paid the ultimate price for his actions. I would like his widow and children to know that the city is very proud of citizens like Tasawar who try to make the world a better place to live in."
Mr Hussain's memorial is set alongside those of PC Sharon Beshenivsky and Sergeant Michael Hawcroft who were both killed in the line of duty.
West Yorkshire Police Deputy Chief Constable David Crompton said: "As a Force we are pleased that a brave Bradford man who tragically intervened out of a sense of public duty will be properly remembered in this way. Tasawar, who left behind a young family, acted in the same way as those two officers on the night his life was cut short."