 Evidence shows rise of virus amongst South Asians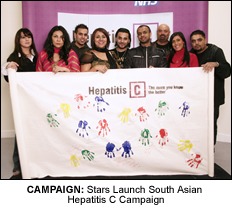 ASIAN stars from TV, film, radio and music have united to support a new Department of Health campaign to raise awareness of Hepatitis C among South Asian communities.
Hepatitis C, a blood-borne virus that can cause chronic infection, can lead to serious liver damage and even premature death.
Evidence has shown a rise of the virus within South Asian communities compared to the general population in England.
The campaign coincides with the 20th anniversary of the virus being named.
Stars backing the campaign include music producer Rishi Rich, RnB singer Veronica and Pakistani actress Sakina Samo.
Dr Saket Singhal from the South Asian Health Foundation said there was strong support for the campaign from healthcare professionals.
"There is evidence that chronic hepatitis C infection is more common in the South Asian population. It is therefore, of vital importance that both the public and healthcare professional providers are aware of hepatitis C and the potential dangers to health posed by this virus," he said.
Actress Sakina Samo said she fully supports the campaign after seeing loved one's struck down with the virus.
She said: "I'm delighted to be part of a campaign such as this. I want to help to draw as much attention as possible to Hepatitis C, as I have seen first hand the needless suffering of a close family member, a friend and a colleague from this infection. I urge my fellow Pakistanis and anyone who thinks they may have been exposed to the virus to contact their GP and ask for a test. Please take extra measures to protect yourself and your loved ones. Watch, listen, read be aware and save lives".
You can get more information on hepatitis C from the NHS Hepatitis C Information Line on 0800 181 4774 where you can speak to an adviser in your language in confidence. You can also visit the NHS hepatitis C website:
www.nhs.uk/hepc/southasian