 Gurinder Chadha tries hand at comedy in 'It's A Wonderful Afterlife'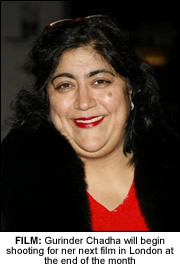 BEND It Like Beckham director Gurinder Chadha will begin filming her next film in London later this month.
Entitled 'It's A Wonderful Afterlife', the film is expected to begin shooting in London's Southall and Ealing districts at the end of March.
The film has been billed as 'My Big Fat Greek Wedding meets Shaun Of The Dead' and tells the story of an Indian mother whose obsession to marry off her daughter comically leads to serial murder.
Building on Chadha's record for discovering new talent, the protagonist will be played by the newcomer, Goldy Notay.  
She will be joined by Indian actress Shabana Azmi, Shaheen Khan who worked with the director in Bend It Like Beckham, and Heroesactor Sendhil Ramamurthy.
The film will also see a return to the big screen for Chadha and long standing writing partner and husband, Paul Mayeda Berges.
To date the duo have worked on box office hits 'Bend it Like Beckham', 'Bride and Prejudice' and teenage flick 'Angus, Thongs and Perfect Snogging'.
"I am thrilled to be making another British movie in the west London suburbs of Southall and Ealing with a true feeling of the Ealing comedies of Michael Balcon I so admire," Chadha said. "This is also my tribute to one of the great directors, Frank Capra and my all time favourite movie, It's a Wonderful Life."
Chadha has partnered with The Indian Film Company in making the film, and the company's CEO Sandeep Bhargava, said they were "proud" to be working with the award-winning British director.
"We couldn't be more proud to join forces with Bend It Films to make this fantastic comic script into a reality," he said.
"Gurinder is an extremely talented and popular writer-director whose films have fared incredibly at the box office. Ever since our team met her in December 2008, we developed great chemistry and I'm delighted that conversations moved at a brisk pace to allow us to work together."