 Lancashire Police in Forced Marriage Protection Order first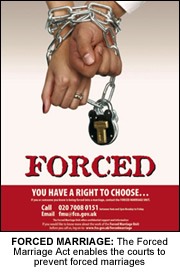 A 22-year-old woman who feared her father would take her to Pakistan and force her into marriage has become the first person to be protected under new UK Forced Marriage laws.
The woman, who has not been named, contacted Lancashire Police who successfully obtained a Forced Marriage Protection Order banning her father from taking her abroad.
The case is the first in Lancashire since new legislation combating Forced Marriages was brought into force last November.
The force said the woman could now "lead a normal.
Last month officers were contacted by the woman who was being forced by her father to travel to Pakistan the following month for an arranged marriage.
With the support of others members of her immediate family the woman contacted the police and told them she did not want to go through with the marriage.
The force subsequently applied for a Forced Marriage Protection Order on her behalf, and on 5 February a judge at Blackburn County Court granted the order.
As a result of the order the woman's father is forbidden to take his daughter abroad and faces immediate arrest if the order is broken.
The force said the woman continues to live with her immediate family but "now has the protection of the order to prevent an unwanted marriage."
Detective Chief Inspector Justin Srivastava, from Lancashire Constabulary's Public Protection Unit, said: "Thanks to this new legislation, which has taken a number of years to formalise, this young woman can continue to lead a normal life without fear of being taken abroad against her will. I hope that this will allow those people who are victims of these incidents to come forward to the police or other statutory agencies so that they can be helped and given advice or support."
Under the Act, a Forced Marriage Protection Order will contain terms that are designed to protect the victim in their particular circumstances.
This can include a requirement to hand over passports, to stop intimidation and violence, to reveal the whereabouts of a person and to stop someone from being taken abroad.