 Fahmeeda Begum sentenced to two and a half years i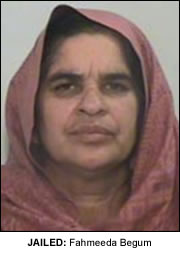 A WOMAN who admitted trying to conceal a loaded gun moments before police raided her house has been jailed today.
Fahmeeda Begum, 48, of Manor Road, Levenshulme, wrapped the loaded Baikal self-loading pistol in a blue bag and threw into on to the roof of an outbuilding next to her house as officers closed in.
Begum, who pleaded guilty to possession of a firearm, was today sentenced to two and a half years in prison at Manchester Crown Square.
A 15-year-old boy, who was charged with possession of a firearm with intent to endanger life, was jailed for two years in a young offenders institute.
The court was told officers from Greater Manchester Police's Xcalibre Organised Crime Unit executed a warrant on Begum's house on Manor Road on 17 October last year.
After watching the house earlier that day, officers arrested the 15-year-old boy on suspicion of possession of a firearm when he left the house.
Minutes later officers went into the house before noticing an outbuilding attached to a next-door house, which backed onto Barlow Road.

Begum let officers into the building and, during the subsequent search, one of them spotted a blue plastic bag on the flat roof of the outbuilding.

The bag contained a loaded Baikal self-loading pistol containing four bullets. Begum was also arrested at this point.

In interviews, Begum said she found the weapon in a room in her house and threw it onto the roof of the outhouse when police arrived.