 Younis Khan urges team to unite ahead of Sri Lanka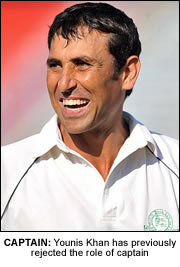 NEW PAKISTAN captain Younis Khan has urged fans not to get carried away with his appointment claiming 'I do not have a magic wand'.
Khan has been given the responsibility of trying to revitalise the Pakistan team following the end of Shoaib Malik's stint as captain.
Malik was replaced by the Pakistan board just days after seeing his team humiliated by Sri Lanka in a three-match ODI series.
Despite winning the first ODI, Pakistan capitulated in the final two matches, with questions raised about Malik's effectiveness as captain.
Pakistan play Sri Lanka again next month in a two-Test home series, and Khan urged his players to unite as a team.
"I cannot do anything all by myself. I want support from all the players to take the team forward because I do not have a magic wand," Younis was quoted as saying by AFP.
"Pakistan is the only team which staggers in one minute and recovers in the next. There is no reason why we can't get into the top teams again."
Khan's appointment as captain raised more than a few eyebrows none more so because he has refused to take on the role previously when called upon.
He turned down the offer of the captaincy after Pakistan's first-round exit from the 2007 World Cup, citing personal reasons.
He also refused to lead the team in the Champions Trophy held in India in October 2006, just a day after he was appointed skipper, saying he did not want to be a dummy captain.
Khan's appointment signalled a host of changes in Pakistan cricket over the past week. Javed Miandad quit his post of director general saying he was unhappy with the lack of responsibility he was offered in first team affairs.