 'Through Other Eyes' exhibition opens next week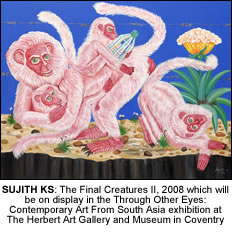 A GROUND-breaking exhibition featuring emerging artists from South Asia will be launched at the new-look Herbert Art Gallery and Museum in Coventry next week.
Artists currently living in India and Pakistan will make their international debut at the venue in 'Through Other Eyes: Contemporary Art from South Asia' at The Herbert in Jordan Well in the city centre from January 23 to April 19.
Curator Gérard Mermoz spent three months travelling to the continent to find the drawings, paintings, sculptures, photographs, films and prints by recent graduates to bring their work to a British audience.
Speaking about the exhibition Mr Mermoz said: "I was interested in looking at South Asian art before it gets entangled with the commercial sector.
"I wanted it to be from a different perspective because all private galleries in India are commercially led so we have selected artists before they have left art college."
One artist on show is Durgabai Vyam whose tribal art painting of The Bhopal Disaster reflects the story of the chemical incident which killed 1,000 people.
Mr Mermoz added: "Durgabai lives in Bhopal and this is a truly outstanding piece of work which compares with the film and recent books based on accounts of survivors and witnesses."
Rosie Addenbrooke, senior exhibitions and events officer at The Herbert, said the exhibition would appeal to people interested in contemporary art as well as a general audience.
"I think people will be inspired to see such a big exhibition of work coming from India and Pakistan because the work is very different from art produced by artists from other parts of the world," she said.
For more information about 'Through Other Eyes: Contemporary Art from South Asia' log onto
www.theherbert.org