 Calls for world leaders to take action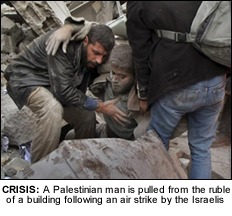 THE humanitarian crisis in Gaza is worsening, relief workers have said.
More than 600 Palestinians have been killed since Israel began military action against Gaza 11 days ago.
Aid agencies in the Gaza strip have described the situation as "desperate" as Israel refuses international calls to call a ceasefire.
Information about what is happening inside Gaza is limited as Israel has barred foreign reporters from entering.
But details from aid agency workers are painting an increasingly grim picture.
Hatem Shurrab aid worker with UK charity Islamic Relief, one of the largest aid agencies operating in Gaza, described the situation in Gaza as "desperate", adding vital food supplies were running out.
"Since the bombing started people have become more and more desperate. I've met families who are resorting to boiling weeds that they've dug out of the ground in order to feed their families. People are too scared to leave their homes and in many cases they have run out of food," he said.
"I have never seen the situation in Gaza as desperate as it is now. People are exhausted and every day is a struggle. We need urgent aid supplies to be brought into Gaza as the human misery is increasing hour by hour."
As Israel continues its ground and ariel bombardment innocent Palestinians are having to make life-saving decisions on whether to stay at home or seek refuge elsewhere.
For those who choose to stay put the lack of clean drinking water as well as no fuel and electricity is making life increasingly unbearable.
But there is little hope for those who seek shelter. In just one day Israeli forces fired rockets at two separate schools, killing a total of 43 people, UN officials revealed.
Both schools were being used as refuge centres for families fleeing the conflict.
The director of the UN aid agency Unrwa, John Ging, said the conditions in Gaza were "horrific".
"Nowhere is safe for civilians here in Gaza at the moment. Some are fleeing their homes and they are right to do it when you look at the casualty numbers."
"It's very, very dangerous, and even the 14,000 who have sought refuge in our schools and shelters, they are not safe either."
Other agencies in the area have also reported attacks by Israeli soldiers on medical crews scrambling to help the injured.
Miri Weingarten of Physicians for Human Rights who are operating on the ground in Gaza said attacks on medical crews are making it extremely difficult to treat and evacuate the wounded.
Two members of the group – Dr. Ihab Madhun and medic Muhammad Abu Hasireh – were killed instantly after coming under attack when attempting to evacuate the wounded in northeast Gaza. Elsewhere an Israeli tank fired at an ambulance during attempts to evacuate a family in Tel Alhawa. Three members of the family were killed.