 Sarah Elenany 'frustrated' with Muslim 'fashion'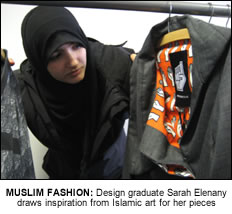 A LONDON fashion graduate has launched her own clothing line that unites urban chic with Islamic culture.
Sarah Elenany, from Mitcham in Surrey, has developed her new label 'Elenany' by drawing inspiration from Islamic art and combining it with contemporary styling.
The 24-year-old launched the label after becoming frustrated with the lack of fashionable clothing that adhered to a Muslim woman's desire for modesty.
"As a Muslim woman I have always found that the only options for me are the traditional Islamic clothes, or buying high-street brands in sizes too big so that I was covered. There was no compromise." explained Sarah.
"I started to design and make my own clothes and other Muslims began complementing me on them. That was when I realised there is a real demand for Islamic clothing with a modern edge."
After graduating from London South Bank University (LSBU) with a degree in Engineering Product Design, Sarah applied for a place on LSBU's Enterprise Associate Scheme which supports students with entrepreneurial flair.
After completing the course she received a formal academic qualification in the form of an MSc in Enterprise by Learning Contract.
As an Enterprise Associate she successfully applied for £40,000 from The Emerald Fund to create the new collection – which Sarah describes as "relevant to Muslims and non-Muslims alike."
"I have used bold shapes and vibrant colours, and I expect they will completely turn any preconceptions on their heads. At the same time I think Muslims will appreciate the wit of the designs that borrow from Islamic imagery," she adds.  
Sarah is now in the process of sourcing a manufacturer for her clothes and constructing a website for online orders.