 Indian hero leads team to victory over England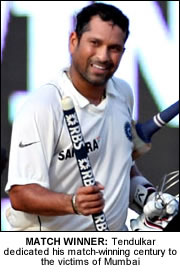 INDIAN hero Sachin Tendulkar dedicated his match-winning century to the victims of the Mumbai atrocities as India capped a remarkable last-day performance to beat England in the first Test in Chennai.
Tendulkar hit his 41st Test century to give India a six-wicket victory in a match that looked beyond them at one stage.
They raced to victory on the fifth day of the match with 20 overs to spare.
The England team, who donated their match fee to the Mumbai victims, were praised for returning to India following the atrocities which claimed over 200 lives.
Tendulkar who hit the winning runs said the century was more special in light of the recent attacks on Mumbai – the city in which he was born.
"This was one of my best hundreds, given the conditions, the surface, the target and especially after what happened in Mumbai," he said.
"By no means am I saying that this will help everyone forget what happened in Mumbai, but I'd like to thank England for coming back and playing. We have witnessed a wonderful Test match and people enjoyed the cricket the way it's supposed to be.
"I don't think India winning and me scoring a hundred will help those who lost their lives, but if we can help by contributing in some small way then we will do whatever we can to do that.
"It is a terrible loss and our hearts are with them. From my point of view I see it as an attack on India, not just Mumbai, and I'd like to dedicate this hundred to all those who have gone through such terrible things."
The second and final Test match will begin in Mohali on Friday.