 Muslims4UK and British Muslims for Secular Democracy slam Sharia march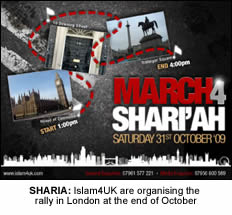 TWO British Muslim groups have confirmed they will hold a counter-demonstration against a groups plan to hold a rally in central London this weekend proposing the implementation of Sharia law in Britain.
The group behind the pro-Sharia rally, Islam4UK, are said to be a front organisation for the extremist group Al-Muhajiroun. The group is led by Anjem Choudary who said the rally, planned for 31 October, would highlight solutions Sharia law could offer to help bring Britain out of "the darkness and oppression of man made law".
But Inayat Bunglawala, spokesperson for the Muslim Council of Britain, accused the group of undermining social cohesion.
He has set up his own group, Muslims4UK, which will hold a counter-demonstration to the pro-Sharia rally in Piccadilly Circus on the same day.
The group will also be joined by British Muslims for Secular Democracy who will hold their own rally against Islam4UK.
There has been growing condemnation against Islam4UK after details of their rally emerged on their website earlier this month.
The group are calling for Muslims to gather in London for the rally which will begin at the Houses of Parliament before moving onto 10 Downing Street and finally Trafalgar Square.
In a video message posted on their website, the groups leader Anjem Choudary said Britain was beset with a number of problems including "the credit crunch, "MP's exploiting resources" and "drug and gun culture amongst the youth", and that Sharia law would offer a "solution to the British public in order to bring them out of the darkness and oppression of man made law."
Choudary also slammed the country's political leaders accusing them of being unable to better the country, adding: "Britain does not need a change of leader, but needs a revolution; indeed it needs an Islamic revolution."
But Inayat Bunglawala accused the group of being no better than the anti-Islamic English Defence League in inciting "hatred and intolerance towards British Muslims."
"Muslims4UK are proud to live in a multifaith and multicultural Britain. We are proud to be both Muslims and British," he said.
"In recent months there have been arson attacks on mosques in Luton, Bishop's Stortford, Woolwich and Sunderland," Mr Bunglawala continued. "It is time to stand up and be counted and say to al-Muhajiroun: You do not represent us. You are a tool for those who hate Muslims."
Mr Bunglawala said supporters of Muslims4UK would also demonstrate against the EDL, who will hold an anti-Islam rally in Leeds on the same day, and the Daily Express newspaper who he accused of being a "vile, xenophobic recruitment publication for the far right."
Shaaz Mahboob, vice-chair of British Muslims for Secular Democracy, who will stand side-by-side with Muslims4UK, added: "Our counter-demonstration is based on our belief in, and commitment to, those liberal values that define the British state, including legal and constitutional equality for all, equal rights for women and minorities, and religious freedom, including the right to be free of faith.
"We are turning out to defend all of these virtues of a secular democracy that Islam4UK so despises and daydream of taking away from the British public."
Related Articles