 Millions tune in to BBC's 'Indian Food Made Easy'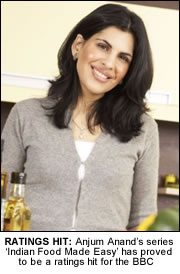 CELEBRITY chef Anjum Anand's popular new BBC2 series 'Indian Food Made Easy' got off to a flyer with more than 1.9 million budding chefs tuning into her first episode.
The London-born chef has adopted a legion of fans with her collection of Indian dishes that are easy and quick to put together.
The series was widely expected to do well with viewers but actual viewing figures seem to have startled everyone.
With 1.9 million viewers tuning into the first episode, a further 1.5 million caught the repeat. The figure rose to 2.1 when the second episode hit the screens.
The six-part series follows on from Anjum's hugely successful debut BBC show of the same name which aired in summer 2007.