 Films 'gay theme' proves sticking point
KARAN Johar's gay buddy movie Dostana has run into trouble in Pakistan.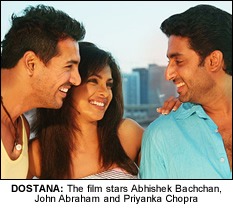 Despite receiving rave reviews from critics and fans alike, the film isn't going down too well within neighbouring Pakistan.
And the sticking point? Well it doesn't take a genius to figure out it's all to do with the gay-themed plot between actors John Abraham and Abhishek Bachchan.
According to a number of reports the High Court in Lahore slapped a ban on the film after a petitioner claimed the film 'propagates homosexuality'.
The judge ordered that the Pakistan Film censor Board block any screenings of the film while the case is on-going.
The film has been hailed for its albeit light-hearted attempt at dealing with homosexuality.
While the two main Bollywood hunks – Abraham and Bachchan – do not portray actual gay lovers on-screen (they pretend to be gay to get close to female lead Priyanka Chopra), they do share a comical kiss.
"Dostana is a fun way to pave the way eventually for a Bollywood Brokeback Mountain-type film," producer Karan Johar said.
"I'm asked if our actors can do 'Brokeback Mountain'. Well, Abhishek and John have done 'Dostana'. It's an equally brave film. It's very brave of Abhishek and John to put themselves into this gay situation and not be embarrassed or be self-conscious. They've given 300 percent of themselves without flinching," Karan added.
Related Articles: