 Victims given drink and drugs before assault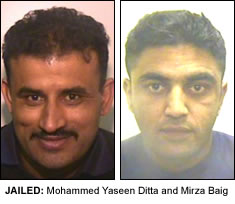 TWO men who abused three teenage girls have been jailed indefinitely.
Mirza Baig, 35, and his accomplice Mohammed Yaseen Ditta, 39, lured the girls into a flat in Manchester where they were given drugs and drinks before being assaulted.
Baig was found guilty of sexual assault and threats to kill at Manchester Crown Court.

Ditta was also found guilty of section 47 assault and sexual assault after a 15-day trial.
They have been given indeterminate sentences for public protection, and will have to serve a minimum of three years before being considered for parole.

Baig and Ditta were arrested on 4 May 2007 after an investigation by the Protect Team consisting of social workers from Manchester Children's Services, detectives from Greater Manchester Police and project workers from the voluntary sector.

The investigation was the result of separate reports that three teenage girls had been assaulted in the same Hulme flat owned by Ditta.

In the first incident, on 18 April 2007, Baig met up with two 15-year-old girls and drove them to Ditta's flat on Chorlton Road in Hulme.

Once inside Ditta gave the girls drink and drugs. He offered to pay one of the girls to have sex with him. She refused so he assaulted her.

A few weeks later on 30 April 2007 the third victim, who was 15 at the time, went to the same flat with a girl she knew.

There, Ditta and Baig gave the 15-year-old drink and drugs. While she was heavily intoxicated, Baig then sexually assaulted her. He then trapped her in the bedroom and threatened to kill her.

Ditta also sexually assaulted her before she was able to escape.

All three girls reported these offences to the police and officers went to the flat in Hulme days later and arrested Ditta and Baig.

Passing sentence Judge Anthony Gee said: "These are despicable and truly shameful offences. Neither of you have displayed the slightest hint of remorse or regret."

Detective Constable Andy Spillane, the investigating officer from the Protect Team said: "This has been a very sensitive investigation involving vulnerable people who have been left frightened and traumatised by what these men did to them. I am pleased with the result, and that Baig and Ditta are now exposed as the kind of men who prey on young girls."