 Cousins' snack curries favour with sports fans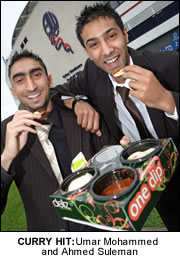 Two young Asian Bolton-based businessmen's unique spicy take on Britain's favourite food has proved a hit with catering bosses.
Cousins Umar Mohammed, 21, and Ahmed Suleman, 22 have secured a contract with Bolton Wanderers Football Club's in-house catering partners De Vere Whites, for their curry snack 'One Dip'.
The product is being sold in kiosks at the Reebok Stadium and is proving a hit with football fans up and down the country. The authentic Indian snack, costing £2.95, is made up of a tray with bite-size naans, mini poppadums, a curry dip, a cup holder and a handwipe.
The entrepreneurs started their company Deliz Ltd last November after being inspired by their fathers, who are both business owners.
They approached Business Bolton, the Council's one-stop shop for business support, and thought up their product after spotting a gap in the market.
"I always wanted to follow in my father's footsteps," explained Umar. "My dad worked in the manufacturing industry, making chappatis for local grocery shops and we wanted to continue the Asian theme.
"Our Business Bolton adviser Faizal Ingar advised us to research the snack industry, which is when we realised that there was nothing like One Dip on the market," he added.
Faizal advised Umar and Ahmed to attend a number of courses, including a three-day one focussing on marketing.

Umar, who was born in London and moved to Bolton eight years ago, said: "When we first started, we didn't know where to go, we just had an idea in our heads. Faizal gave us advice on different courses, which have helped change the direction of our company. Without Business Bolton we wouldn't have got this far, their free help and support has been invaluable."
Deliz are now in talks with Thwaites Pubs Groups after a successful trial at three pubs. A contract with another catering company is also on the cards, which would see them expanding One Dip to sport stadiums all across the UK.
Deliz have outsourced the manufacturing of the product to a number of UK-based suppliers. Chefs from India have come up with the recipe for the curries and consumers have a choice of six sauces ranging from vindaloo, madras, jalfrezi to the more milder tandoori, tikka and balti.
"It has been a really exciting time. A bit of a rollercoaster – it took us a while to develop the idea into an actual product but we now have a unique Indian snack for people who like a taste of the East! Fans have really liked the idea of having an option to purchase a curry when they're watching a match," Umar added.
Councillor Akhtar Zaman, Bolton Council's Executive Member for Regeneration, said: "I think it's a great product and a unique take on curry. I would encourage anyone who is thinking about self employment or expanding their business to seek advice from Business Bolton."
For free advice and support contact Business Bolton on 01204 334444.