 Spinner would 'prefer Pakistan role'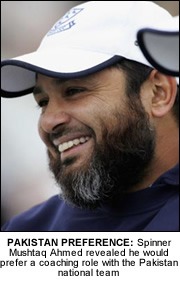 FORMER Pakistan spinner Mushtaq Ahmed has admitted he would prefer to join the coaching set-up with his native Pakistan rather than take a role with England.
The ex-Sussex man has been linked with a role in the England coaching set-up in recent weeks after England coach Peter Moores said he would be an asset to the team.
"I am yet to decide on the issue," Mushtaq said. "The offer had not directly come from the coach [Moores]. It only came through my agent. The coach had just expressed passing remarks about myself.
He added: "I am more inclined to be associated with the Pakistan team (rather than England)."
Mushtaq, who was part of Bob Woolmer's coaching set up at the last World Cup, was forced into retirement this year with Sussex following a persistent knee injury.
The spinner spent some time working with England coach Moores who revealed he was keen to get into coaching.
"Mushy is passionate at some stage to coach and pass on the information he's gained over the last 20 years," said Moores.
"There are certain people who can be helped to develop a certain clarity of thought. Mushy has that ability."
"What Mushtaq brings is his ability to deal with the non-technical stuff – how you react on the international stage. He's very good and speaks the players' language."