 'We can overcome difficulty', says Ashfaq Hussain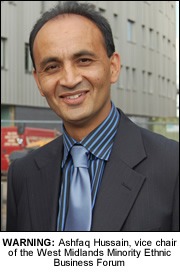 BUSINESS leaders have been warned that the economy is facing its biggest challenge for nearly 80 years.
Ashfaq Hussain, vice chair of the West Midlands Minority Ethnic Business Forum gave this stark message when he spoke at the annual dinner and awards evening of the Black Country Asian Business Association.
"We are going through one of the most challenging economic climates that most of us can remember," he told more than 300 Asian business leaders at the Copthorne Hotel in Brierley Hill.
"The global economy has seen nothing like what has been happening in recent weeks since the Wall Street crash 79 years ago.
However, he said that the experience of minority ethnic businesses in overcoming adversity would help them get through the difficult weeks and months ahead.
"Another feature of Asian businesses that will assist us, is our ability to take a global view," said Ashfaq who was speaking ahead of a visit to the Middle and Far East.
He said that the West Midlands Minority Ethnic Business Forum that provides strategic advice to the regional development agency Advantage West Midlands and other agencies was actively involved in initiatives, including helping to shape business support services in the region, promoting international trade and trying to improve access for finance for entrepreneurs.
"One of the great lessons for the current situation is that the global economy brings opportunities and risks. Some, but not all of our current economic ills are as a result of activities in other parts of the world – primarily the United States," he added.
"Nevertheless, the global economy in which our customers and competitors are not just in the next neighbourhood or town but on the other side of the world is a fact of life and here to stay.
He said the Forum looked forward to working with Ian Austin MP, the new Minister for the West Midlands who was in the audience for the awards.