 Veteran actor leads the way in action-thriller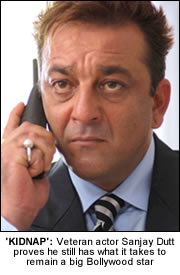 THERE may have been a time when Sanjay Dutt truly believed his Bollywood career was over. Famed on screen for 'putting the bad guys away', Dutt found himself having to face the India's legal system over the alleged possession of firearms used in the 1993 Bombay bomb blasts. While the matter is still ongoing, Sanjay has returned to what he does best. His latest offering is 'Kidnap', where he plays a distressed father dealing with the kidnapping of his daughter. The film is also the second offering from newcomer Imran Khan – Bollywood's hottest new property.
We caught up with Sanjay to find out why the film means so much to him, and what advice he has to offer to Bollywood's 'Newest Khan on the Block'
Sanjay what attracted you to 'Kidnap'?
The moment Sanjay (Gadhvi) narrated the first line of the film, I knew I had to do it. It's something I haven't done in all these years. There was a sense of identification with the character – a father who deeply and immensely cares for his daughter and will go to any extent for her safety and happiness.
What was Sanjay Gadhvi like as a director?
He's tremendous. Sanjay (Gadhvi) is very focused and knows what he wants. He is very clear in his vision and has the knack of getting the best out his actors.
Did it help that he was the man behind the 'Dhoom' series?
To be honest I had not seen 'Dhoom 1' or 'Dhoom 2', except their promos when he approached me. I believed in the subject and in him and decided to do it.
Tell us more about 'Kidnap'?
My producers, director and co-actors went through a lot of anxiety during the shoot of 'Kidnap' because of my trial. But all's well that ends well. I am happy the film is complete, ready and looking good. It is my first release in 2008. I play a father to Sonia (Minissha Lamba) who is kidnapped by Kabir (Imran Khan). It's an edge-of-the-seat thriller, which everyone is bound to enjoy. It has some great action and emotion and has been well written and directed. I hope my audience goes out and watches it.
Was it difficult playing a father?
No, why should it be? I have played father to Hrithik Roshan earlier.
You mentioned at the press conference that 'Kidnap' is very close to you, as you identify very closely with your character Vikrant Raina.
I could relate to the father in the film. I love my daughter Trishala immensely and during the making of this film I kept thinking about what I would do or how I would react if Trishala ever got kidnapped. There was a lot of real-life emotion that came into my character in the film.
Who will 'Kidnap' appeal to?
I think the beauty of 'Kidnap' lies in the fact that besides being an engaging thriller cum drama it concurrently captures the softer emotions and relationships – father-daughter, husband-wife, girl-boy. It's a thriller with a heart, and on the whole, an entertaining commercial product, which will appeal to everyone. Also, it has Imran Khan who has become very popular after 'Jaane Tu Ya Jaane Na'.
How was it to work with the industry's hottest youngster, Imran Khan?
We got along well. He's a humble, conscientious and hardworking boy. He's into his craft. He'll go a long way and I hope and pray that success doesn't change him.
Anything else you can recount during the shoot of 'Kidnap'?
I enjoyed the action. It had my adrenaline rushing. I felt a teenager again! (Smiles)
Which are your forthcoming films?
'EMI', 'Aladdin', 'Blue' and 'Munnabhai 3'. I am starting my own production house next year and hope to make good films.
What do you cherish the most in life?
The fact that I was born to great parents and have a great set of fans, friends and well-
wishers.
What do you regret the most?
The days when I was into drugs and my time in jail. But that was destiny.
'Kidnap' is out now