 Over 200 guests attend launch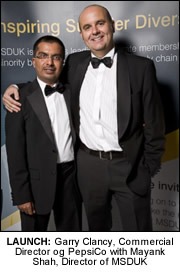 MSDUK (Minority Supplier Development UK) held its first awards dinner celebrating and rewarding the achievements of British ethnic minority-owned businesses at London's Hilton Waldorf.
Top executives from corporate companies, including PepsiCo, BT and JP Morgan, joined MPs and community business leaders to applaud the achievements of suppliers from Britain's ethnic minorities. Five awards were presented on the evening, with more than 250 guests in attendance.
The MSDUK Awards ceremony was a testimony of the mutually beneficial partnership between corporations who are the country's leaders in supplier diversity and minority businesses.
Garry Clancy, commercial director, PepsiCo UK and Ireland and chairperson of MSDUK's board of directors, was a keynote speaker on the evening. The Awards were hosted by the BBC Foreign correspondent, Navdip Dhariwal.
Among other speakers at the landmark event were Harriet R Michel, president of the National Minority Suppliers Development Council (NSMDC), US, who has taken the message of promoting supplier diversity all over the world; Leicester East MP Keith Vaz and Sonita Alleyne OBE, CEO of the radio production company Something Else.
The MSDUK Awards were presented in the following categories:
Corporation of the Year: Enterprise Rent-A-Car
Supplier of the Year – Open Category: Pumasource
Supplier of the Year – HR, Recruitment and Training: Canary Wharf and City
Supplier of the Year – Print, Media and Marketing: Star Direct
Special Appreciation Award: EMDA (represented by Ian Harrison)
The winners were characterised by entrepreneurial flair and an inherent ability to turn their limitations as small businesses into strengths such as flexibility.
Kapil Thakrar, one of the winners in the Supplier of the Year category points out that the key differentiator for him as an ethnic minority business to win work from Dell was his ability to understand the requirements of the client and maintain flexibility which he could afford to do as a small business.
Michelle Palmer, the entrepreneurial flair behind recruitment firm 'Canary Wharf & City' is another example of the fine partnership with MSDUK which gave her access to win blue chip clients such as JP Morgan, IBM and Enterprise Rent-a-car.
Mayank Shah, Director of MSDUK, said: "These success stories show that being a small business is no barrier to growth. These businesses have brought innovation, provided excellent service and added value to corporate supply chains. On the other hand, corporate organisations have showcased how their commitment to supplier diversity and have thus opened doors to some of the best entrepreneurial talent."