 New ruling a boost for blind Muslims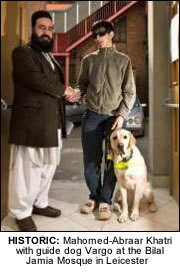 A UK Guide Dog has become the first of its kind to enter a Mosque.
18-year-old blind Muslim studentMahomed-Abraar Khatri and his guide dog Vargo visited the Bilal Jamia Mosque in Leicester yesterday in a move that has been described as 'historic'.
Muslims do not allow dogs into Mosques, but yesterday's development came after the Islamic Shari'ah Council issued a fatwa saying guide dogs were allowed to accompany their owners into the Mosque.
Previously Mahomed-Abraar had to be accompanied to the mosque by a sighted assistant.
But a specially constructed rest area has now been set up in the entrance of the mosque for Vargo to stay in whilst Mahomed-Abraar is praying.
Mohammad Shahid Raza, OBE, the Director of Imams and Mosques Council U.K and the Secretary of Muslim Law (Shariah) Council U.K who issued the fatwa said he hoped the special provision for guide dogs would be adopted across UK Mosques.
"I am pleased Bilal Jamia Mosque in Leicester is providing a unique facility to our blind Muslim brothers to take their guide dogs with them while visiting the mosque to join the prayers," he said.
"Such a facility will highlight the Islamic attitude of helping disabled people and enhance the services we provide to the Muslim community."
Mahomed-Abraar's father Gafar raised questions about the possibility of a guide dog accompanying his son to daily prayers during an event organised by Guide Dogs for the Blind and the Muslim Council of Britain in November 2007.
He said the decision to allow Vargo to accompany his son to the mosque had helped Mahomed-Abraar to "regain his independence".
A spokesperson for Guide Dogs said the development was "a massive step forward for other blind and partially sighted Muslims", adding it "hoped that mosque leaders both in the UK and internationally will now make similar adjustments to enable Muslim guide dog owners to enter their mosque."