 Goulam Rasool Mirza jailed indefinitely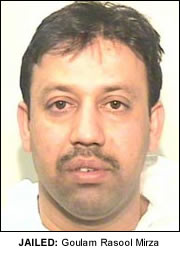 A MAN who stabbed his wife to death and tried to kill his sister-in-law in a frenzied knife attack has been jailed indefinitely.
Goulam Rasool Mirza, 35, from Manchester launched the unprovoked attack on the two sisters during the holy month of Ramadan last October.
He stabbed his wife, Nilom Rasool, nine times with a 20cm kitchen knife minutes after plunging the blade into his sister-in-law Nabila.
Mirza pleaded guilty to manslaughter on the grounds of diminished responsibility and attempted murder in April this year.
Today he was given an indeterminate sentence for public protection and been ordered to serve a minimum of five years and 14 days before being eligible to apply for parole.

On the evening of 3 October last year Nilom and Mirza were celebrating Ramadan and went to Nabila's house on Manswood Drive, Crumpsall.

During the course of the evening Mirza went out after being asked to go and buy a loaf of bread.

When he arrived back at the house 30 minutes later, he immediately began attacking Nabila, stabbing her with a knife he had taken from his own kitchen.

When his wife tried to intervene Mirza turned on her. It was during this struggle that Nilom received her fatal wounds.

A passerby had seen Mirza go into the house and saw him stabbing someone through the shadows.

When he emerged from the house, the passerby followed him at a discreet distance towards Cheetham Hill Road. He then flagged down a passing police car which was on its way to the incident.

Police officers and paramedics arrived at the house simultaneously and found Nilom collapsed in the hallway behind the front door. They then found Nabila in the upstairs back bedroom.

Both were taken to North Manchester General Hospital where Nilom was pronounced dead.
Nabila was initially in a serious, but stable condition, but her condition slowly improved and she was discharged.

A post mortem examination concluded that Nilom died from multiple stab wounds.

Detective Inspector Koran Sellars said: "Mirza launched a cold and pitiless attack on two defenceless women that has resulted in the tragic death of a young woman.

"Mirza has never said why he carried out this appalling attack and we might never know for sure. Only he knows why he did this and the family may never know what lay behind this murder. I only hope that they can now begin to put this tragedy behind them and remember Nilom in happier times."