 Participants wanted for BBC3 Doc Series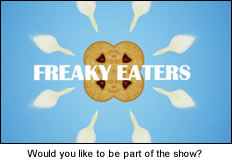 BBC 3's 'Freaky Eaters' are looking for people to take part in a new series of programmes
Do you have an unusual eating problem which controls your life?
Do you find many foods difficult to eat?
Do your friends and family think your eating habits are weird?
Are you at the end of your tether and desperate to sort out your diet?
Freaky Eaters is a series about people who live with unusual eating habits.  Each week our resident nutritionist and psychologist offer advice and support to help individuals tackle their eating problems.