 Mohammed Bhana on the Asian LFC fan phenomenon
TALK football and the Asian community and there's no denying Liverpool Football Club will end up somewhere in that conversation. The club have a massive Asian fan base and its one that's the subject of a recently published book 'The Asian Liver Bird'. Author Mohammed Bhana is a lifelong Liverpool fan and was eager to bring the clubs Asian fan base to life. We spoke to Mohammed to find out how the book came about…
Mohammed tell me a bit about your new book 'The Asian Liverbird'
The Asian Liver Bird is a unique publication celebrating the relationship between Liverpool FC and their massive multi-cultural fanbase.
Featuring a foreword by Kenny Dalglish, the book also offers some unique insights and tales from fans who have followed the club through thick and thin.
The book also celebrates the club's heritage and ensures the club to be one of the most popular in the world. Unique fans photography and unseen images.
Exclusive content features a wealth of players past and present, including Gerrard, Alonso, Sissoko, Barnes, Lawrenson and Hansen.
The fans also recount their colourful inside stories of what life has been like following Liverpool through the highs and lows of the last 40 years, saluting the heroes who first inspired them to support the Reds. This is a football book that features powerful photography to capture the excitement and unique sense of belonging that comes from following one of Britain's most popular clubs.
It's an interesting name for a book, how did you come up with it?
I sat down with the design team and we came up with the title after much deliberation. It's a title that has been well received and soon enough the Irish and Spanish Liverbird will be published.
What made you want to write the book?
I went to the club and pitched the idea. I told them that I have an idea for a book that would help them connect with this great fan base. We shook hands on a deal immediately and the rest, as they say, is history.
I have a pure football mind and the club has given me a great deal of creative control and another book will be out soon…
As a Liverpool fan yourself it must have been exciting to get access to players/staff for the book.
Yes, it was great. The players were very responsive, especially Xabi Alonso who I must have sat with for over one hour. However, I have had access to players and staff at the club for quite a while now – so I just got on with it.
The book features a lot of input from players – past and present. Who was the most enjoyable to interview and why?
The most enjoyable was Mark Lawrenson. He would just come out with random jokes half way through the interview. However, when it was time to be serious he was great and became quite emotional when I asked him about his time at Liverpool. He was also delighted to hear how Preston North End legend; Sir Tom Finney praised him. Sir Tom Finney was also great to interview. He had actually played with Bill Shankly himself at Preston North End – before he became Liverpool manager.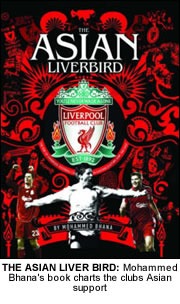 Liverpool FC has one of the biggest Asian fan bases – why do you think this is?
The club has always been synonymous with Asian support and recent years have seen this fan base grow to new levels. When the Asians came to the UK from Asia in the 60's and 70's Liverpool were in the ascendancy and they fell for the best team. This support has since been passed on to the younger generation. Supporting the club is just something else – it's about being part of a family. The number of Liverpool fans amongst diverse communities range across gritty northern towns such as Batley in West Yorkshire to the more affluent areas in London. It's simply breathtaking.
And on top of that, you cannot discount the effect second and third generation Asians have had on relatives in Asia and the Middle East, who are joining the trend of supporting Liverpool FC. Nowadays you hear about relatives in those countries wearing Liverpool tops and watching Liverpool games.
How keen were the club in having something documented about the vast Asian support they have?
The club have been great. They were very keen to have something positive documented about the Asian fan base. They just asked me to get on with it and come up with some great material. We are having a 2nd launch at the Liverpool academy: 11 October between a Liverpool XI and a celebrity/ media XI. The 3rd launch will take place at the Hub in London on 17th October.
Rick Parry feels the book will be a great success. He said: "We are delighted with the 'Asian Liverbird' book. We see it as a positive way of thanking and saluting our Asian fan base which is huge. It's a real football book with a big input from current and former stars as well as focusing on our passionate Asian supporters and I'm sure it will be a huge success."
The fact that Kenny Dalglish penned the foreword says it all……
A lot has been written about the lack of Asian faces in the terraces in football in general. Do you think clubs do enough to tackle this problem?
Some of the big clubs are happy to sell shirts in Asia; however the Asian Liver Bird is all about giving something back to our fans. The authorities need to do a great deal more and give a great deal more to Asian fans.
I know Gordon Taylor; the chief Executive at the PFA has set up trials for youngsters in Blackburn. And although that was very commendable I would like to see much more interaction between clubs and fans.
However, Liverpool Football Club has listened to what I have had to say.
They gave me the freedom to come back with articles for the club's website, and I placed specialist articles in Asian publications. This has seen Liverpool Football Club engaging with the ethnic media in an ongoing and concise manner – much to the delight of the British and international fan base. I know that no other club has done this. At the launch of my book; Asian fans attended in their droves – Phil Thompson, myself and Ian Rush signed over 350 copies! And they took the time to speak to fans and took pictures with them with the Champions League trophy and spoke to ethnic media for over an hour. That is what I call giving something back to the fans and making them feel welcome. LFCTV are also doing a piece on Asian fans and they will be discussing the lack of Asians in football along with the club's international fan base.
Aside from the book, let's turn to the current season. How do you rate Liverpool's chances of fighting for top honours?
I have a sneaky feeling it could be our year to win the Premiership! We always do well in the Champions League; so I hope we will do well this year!
Fernando Torres had an amazing end to last season – is he the Premiership's best striker at present?
Certainly; he has pace, power and cannot be bullied by defenders.
What's next for you Mohammed, any more books in the pipeline?
Yes, look out for another book very soon.
Copies of The Asian Liverbird can be ordered online at
www.merseyshop.com
or by ringing 0845 143 0001. You can also order in all good bookstores.
Related Articles: