 City gears up for Bolton Food and Drink Festival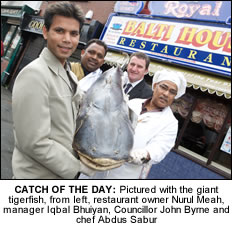 WEIGHING in at 124lbs, a giant Bangladeshi tigerfish is set to make a real splash at this year's Bolton's Food and Drink Festival.
A fearsome creature and distant cousin of the piranha family, the tigerfish is found deep in the forest rivers of Bangladesh.
The fish measures a whopping 5ft long and 2ft wide and is a speciality of traditional Bangladeshi cuisine. The huge catch is now taking pride of place on the menu for the award-winning Royal Balti House in Lower Market Street, Farnworth, Bolton.
The restaurant is serving the dish especially for Bolton's third Food and Drink Festival, which starts on Friday, August 29 and finishes on Sunday, August 31.
Going by the name of tigerfish in Bangladesh due to its predatory nature, the awesome creature is also known as a goonch and devil catfish.
The restaurant will slice up the huge fish, marinate it in lime and spices before serving it up with caramelised onions, curry sauce and lemon and spice flavoured rice and salad. The dish will be served at a special price of £5.95 for the duration of the festival and it will then go on to the regular menu.
Bolton Council's Executive Member for Development, Councillor John Byrne, was on hand to sample a pre-Festival taster served up by chef Abdus Sabur, restaurant owner Nurul Meah and manager Iqbal Bhuiyan.
Restaurant manager Iqbal Bhuiyan said: "The Food and Drink Festival is a good opportunity for food lovers to try something new. More and more people are asking for fish and we are cooking this dish, which is also called Desi Baag, just like we make it at home."
Councillor Byrne added:
"This year's Festival is all about enjoying good, fresh, healthy food like this fish. The fish was really delicious and quite tasty. We have lots of good restaurants in Bolton like the Royal Balti House and I'm delighted they're taking part. We also have a Bollywood themed event happening on the second day of the Festival with local Indian chefs cooking up a fiery feast."
On Saturday, August 30, Bolton will go Bollywood and dancers and bhangra beats will provide the colourful backdrop when local Indian chefs cook up a storm in a mobile kitchen on Victoria Square. Henna painters and stalls with sparkling saris and stunning salwar kameezes will add further Asian spiced flavour to the day. Other highlights of the festival include cookery demonstrations from celebrity chef Simon Rimmer. The celebrity chef will launch the festival on Friday, August 29 by cooking a special Bolton inspired dish.