 Musharraf steps down to avoid impeachment charges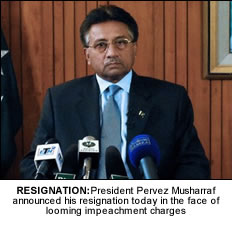 PAKISTAN President Pervez Musharraf announced his resignation today in the face of looming impeachment charges, ending a turbulent nine years in power for the key US ally.
The former army chief, who seized power in a bloodless coup in 1999, had been under huge pressure to quit before the coalition government launched the first impeachment proceedings in Pakistan's 61-year history.
Addressing the nation in a live broadcast Mr Musharraf said he was resigning "in the interests of the nation" and had hoped "the nation and the people will forgive my mistakes."
His days in power looked increasingly fragile after his political rivals swept to power in February.
He stood down as Chief of the army and faced impeachment charges by a coalition government run by the party of Benazir Bhutto who was assassinated last year.
Mr Musharraf used his speech to defend accusations of violation of the constitution and gross misconduct made against him by his political opponents.
"False allegations were filed against me and they tried to turn truth into lie and they tried to deceive the people", he said as he addressed the nation.
"To impeach is parliament's prerogative and to answer it is my right. I believe in myself and I have faith in my god, Allah, that no charge sheet can stand against me. Not a single charge can be proved against me because I never did anything for myself. Whatever I did was for Pakistan first. That was my motto.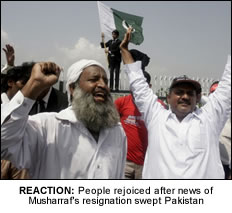 "I leave my future in the hands of the people, to let them be the judges and let them do the justice.
"I am going with the satisfaction that whatever I could do for this nation, for the people, I did it with honesty and integrity. But I am also a human being. It is possible I might have committed mistakes, but I hope that this nation and the people will know that my intentions were true."
He ended his hour-long broadcast with the words "God protect Pakistan. God protect you, Pakistan forever. Long live Pakistan".
As news of his resignation swept across the country people rejoiced and danced in the streets.
His political opponents welcomed the decision saying it was "a victory of democratic forces".
According to the constitution, the chairman of the Senate, Mohammadmian Soomro, will now become acting president.