 Honorary Degree for Mirza Ahmad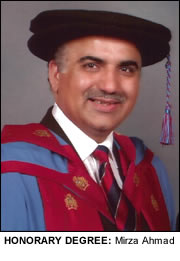 MIRZA Ahmad, Chief Legal Officer at Birmingham City Council, has been recognised with a prestigious honorary degree from the university at which he studied.

The Honorary Degree of Doctor of Laws (LLD) from Manchester Metropolitan University (MMU) recognises Mirza for his "exceptional service to the legal profession, his work on ethical governance, human rights and freedom of information that has made him such an appropriate role model for those following in his footsteps".
In his thanksgiving speech, held at the Bridgewater Hall, Manchester, Mirza paid tribute to and thanked, in particular, all the hard working Councillors and staff of Birmingham City Council (past and present), his colleagues at the Association of Council Secretaries & Solicitors and Debo Nwauzu, the Founder & Managing Director of the Black Lawyers Directory.
Mirza said: "This is a great personal achievement and I am most grateful to God and Manchester Metropolitan University for this honour and recognition of my work for Birmingham, the legal profession and local government."
The Leader of Birmingham City Council, Councillor Mike Whitby, added: "I am delighted with Mirza's latest achievement, which is more recognition for Birmingham, in particular, and local government, in general.
"Mirza's hard work for the city council and, at the national level, on corporate, ethical and governance issues, continues to be appreciated and is now recognised by a major university. He is clearly a great inspiration to others and I wish him even more future success."
Mirza is also Chairman of the Bar Association of Local Government & the Public Service, a Vice-President of the Association of Council Secretaries & Solicitors, Member of the General Council of the Bar for England & Wales, a co-opted member of Birmingham Law Society and a member of the Society of Local Authority Chief Executives & Senior Managers.