 Families of nursing home victims speak out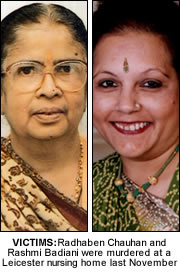 THE FAMILIES of two women murdered in their beds at a Leicester nursing home last November have spoken about their pain.
Rashmi Badiani, 56, and Radhaben Chauhan, 72, were attacked and killed as they slept in their room at the Hayes Park Nursing Home, Leicester last November.
Today 20-year-old Nathan Mann pleaded guilty of murder at Nottingham Crown Court.
Dilip Popat, the brother-in-law of Rashmi Badiani said killer Mann had "taken the smile away from our faces."
He said: "We have lost a dear and loved member of our family and that pain will never go away.  Rashmi was always ready to help others and never hurt anybody.
"He took away the right to life of two vulnerable women and for that we would like to see him never having the joy of a normal life.
"This individual has taken the smile from our faces and made our lives a misery."
 Vinjay Solanki, the son-in-law of Radhaben Chauhan said he could never forgive his mother-in-law's killer.
"My mother-in-law was a strong-willed lady who had devoted her life to helping others.  She was recovering from a stroke and looking forward to her grandson's wedding.  Mum was loved by all her family and always had a smile on her face.  She will always be missed and remembered by us.
"Mann took away from us one very precious person who can never be replaced, we will never forgive him and he must pay for his crime."
Both families also thanked police and their family liaison officers. 
Related Article: