 Woman aided 21/7 bomber's burka escape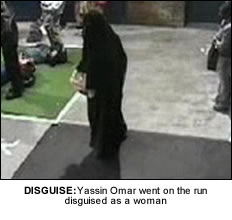 THE FIANCEE of failed July 21 bomber Yassin Omar has been jailed for three years today after she admitted providing him with her mother's burka to help his audacious escape from police.
Fardosa Abdullahi, who was 18 at the time of the failed attacks, admitted helping her fiancee of four days flee London in her mother's burka a day after the attacks in 2005.
She pleaded guilty to the offence at an Old Bailey hearing last month but the details could not be deported until today.
A plea to have her sentence reduced because she was now pregnant and vulnerable at the time of the offence was rejected by Judge Paul Worsley.
He said: "The message must go out that this court will not go soft on those who assist terrorists, even those who are young, vulnerable and under pressure, as you undoubtedly were."
The Old Bailey was shown CCTV footage of Omar at Birmingham's Digbeth coach station wearing the burka and carrying a white handbag.
He was arrested in the city five days later by armed police and later jailed for life.
The judge said that Abdullahi, who is 24 weeks pregnant, had "as strong a mitigation as is likely in a case such as this". But he added: "The events of 21/7 followed only two weeks after the carnage of 7/7. Those events were known to all in this country.
"It was imperative that the police received all possible assistance and that they were not misled by the information fed to them."
The judge told Abdullahi, a Somalian who has been granted indefinite leave to remain: "Your responsibility to this country should have been greater than your responsibility to your husband or fiancee, if such he was."
Abdullahi's conviction signals the end of a series of trials against 16 people who have either been convicted of or admitted charges linked to the July 21 attacks.
Related Articles: