 Police probing suspicious death of Kuldeep Kaur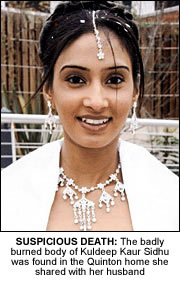 THE HUSBAND of a woman whose badly burned body was found at their home has made an emotional appeal for information.
The body of 25-year-old Kuldeep Kaur Sidhu was found at the home she shared with her husband in Quinton, Birmingham on May 14.
She was found on the floor by firefighters who forced their way into the house on Glyn Farm Road after reports of a fire.
She had a ligature around her neck and an apparent suicide note was found next to her body.  Her body was identified using dental records.
But police said they were treating her death as suspicious after questions marks were raised about the hand-written suicide note.
Fighting back the tears, Kuldeep's husband, Baljinder Singh Sidhu described his wife as his "whole life".
"My wife was my whole life and the most loving and kindest person I have ever known", he said.
"She meant everything to me and never had a bad thing to say about anybody, and had always offered love and care to everyone she knew.
"I loved my wife with all of my heart and she loved me with all hers but she was taken from me as someone came into our home and murdered her. All I ask is for some justice for myself and our families because my beautiful wife Kully won't be coming back to us but she does deserve some justice.
"So please, if anyone has even the smallest amount of information it could be crucial."
Kuldeep's sister Inderjit Kaur Raj added her sisters' death has "left a hole in our hearts that will never be filled."
Det Chief Insp Steve Bimson, leading the investigation, said the fire had been "deliberately set".
Mr Bimson said: "I am treating it as a suspicious death at the moment.
"I have to keep an open mind and can't rule out suicide but there are inconsistencies around the way the note is written that suggest someone else has some knowledge.
"I have to keep an open mind. It could be a suicide, you cannot rule it out. But I'm not in a position to call it a murder."
He appealed to anyone who may have seen Kuldeep on the day she died.
Anyone with information is asked to contact police on 0845 113 5000 or the anonymous Crimestoppers hotline on 0800 555 111.