 We can never forgive him, says Nisha's brother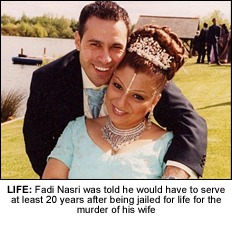 THE husband of special constable Nisha Patel-Nasri was told jailed for life for his part in her murder.
Cheating Fadi Nasri had his wife killed so he could cash in on her life insurance and start a new life with his mistress.
He will have to serve at least 20 years in prison for her murder.
Nisha, 29, was fatally stabbed outside the home she shared with Nasri in Wembley, north-London, in May 2006.
Jason Jones, who stabbed Nisha with a 13-inch kitchen knife, was also given a life sentence and told he would have to serve at least 20 years.
Another man, Rodger Leslie who hired Jones to kill Nisha was told he would have to serve at least 18 years after being handed down a life sentence.
In an impact statement read out to the court today, Nisha's brother Katen Patel, described the devastating effect that the murder has had on her family.
'This has been the most agonising experience of my life,' he said. 'I wanted the defendants to hear how there brutal, savage and vicious attack has left me and everyone in my family absolutely devastated.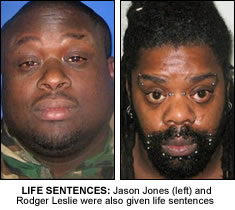 "There are no words I can use to describe the pain and suffering in losing my little Nisha.  
"Nisha was my little sister and I was supposed to look after her. I feel like I had let her down.'
Michael Worsley QC, prosecuting, told the Old Bailey that Nasri and his wife had been 'openly affectionate to each other, on the face of things'.
But in private the marriage was crumbling.
Nisha had confided in a close friend that she was considering divorcing Nasri.
Nasri was regularly visiting prostitutes and began a 'passionate' affair with one of them, a Lithuanian called Laura Mockiene.
On the night of the murder he arranged for his wife to be on her own at their home in Wembley, north London.
She was stabbed in the groin with her own 13-inch kitchen knife and bled to death.
The blade penetrated an artery and left her spilling pools of blood across her driveway.
In the days after her death Nasri made an emotional appeal for information.
But following months of painstaking investigation it became clear that Nasri stood to benefit from her death and had been co-ordinating events with her killers on the night she died.