 Abu Hamza to face trial in America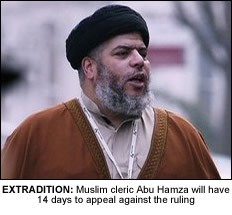 MUSLIM cleric Abu Hamza has lost his high court battle against extradition to the US to face trial on terrorism charges.
The 49-year-old is currently serving a seven year sentence here in the UK for soliciting murder and inciting racial hatred.
Hamza is wanted in America on 11 charges. He is accused of attempting to set up an al-Qaeda training camp in Oregon, sending funds and recruits to the Taleban, as well as being involved in the taking hostage of 16 tourists in Yemen in December 1998.
The charges carry a potential jail sentence of 100 years.
He now has 14 days to decide whether to launch a final appeal to the House of Lords against the decision.
His lawyers had argued he could face detention in a US "supermax" jail, without any contact with human beings.
American officials assured the UK Hamza would not face the death penalty or be sent to Guantánamo Bay or other secret prisons at which torture is allegedly used.