 Police identify man as 47-year-old Lakhvir Singh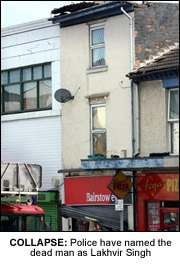 A MAN who died following the collapse of the roof of a building in West Bromwich High Street has been named by police.
Emergency services were unable to save 46-year-old Lakhvir Singh from the building following the collapse in the early hours of Wednesday last week.
The fire service spokesman described the incident as a 'catastrophic failure' of the roof.
It is believed the roof collapsed inwards, causing the floors below to collapse downwards towards the ground floor which was used as an estate agents office.
A post-mortem examination confirmed that Mr Singh died from traumatic asphyxia.
His body was removed from the building on Wednesday.
Enquiries into the cause of the collapse are still ongoing, although police have now reopened High Street which had been closed since the incident.
Buildings immediately adjacent to the affected premises currently remain closed.

Four other men who had been inside the building survived the collapse. Two were treated for minor injuries.