 Life imprisonment for Krishna Maharaj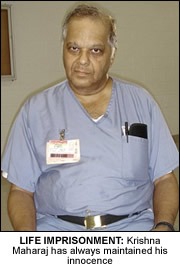 A BRITON who has always maintained his innocence over a double murder will spend the rest of his life in jail after his plea for clemency was denied by a US judge.
Former millionaire Krishna Maharaj was convicted of the double murder of Derrick Moo Young and his son Duane who were shot dead in the DuPont Plaza hotel in Miami in October 1986.
He was initially sentenced to 25 years in prison but this was commuted to life imprisonment in 2002.
Up until yesterday's hearing Maharaj had exhausted all of his legal avenues and his last hope of freedom was dashed when Florida governor Charlie Crist and the state clemency board denied his request for clemency.
Maharaj's case has attracted major political support with over 300 politicians signing a petition calling for a retrial.
Conservative MP Peter Bottomley said: "Everyone knows about Louise Woodward, who was white, female and young. Mr Maharaj is black, British and old and does not have the glamour. But his case is even stronger."
Former attorney general Sir Nicholas Lyell has said: "There are real reasons for thinking that he may have been framed; that crucial evidence about the principal prosecution witness may not have been disclosed – indeed, was not disclosed; that he was inadequately represented; that the case was handled by a judge who in the middle of the case was arrested and subsequently disbarred.
"And that there are real reasons to think that this is a grave miscarriage of justice, which one would hope can be put right."
A major investigation by the BBC into the case revealed Maharaj had five alibi's placing him 30 miles from the crime scene, yet none of them were called to testify at the trial.
A key prosecution witness also failed a lie detector test and had changed parts of his story, and the original trial judge was led away in handcuffs on the third day for taking bribes in another case.