 Salman Khan on Sanjay, Saawariya & being a Star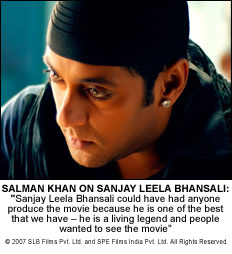 Salman Khan is to Bollywood like Brad Pitt is to Hollywood – a star through and through. When he worked alongside Sanjay Leela Bhansali in the 1999 romantic drama 'Hum Dil De Chuke Sanam', little did the two men realise they would be reunited years later in the hugely successful 'Saawariya' – a film that saw Salman take a back seat to emerging newcomers Ranbir Kapoor and Sonam Kapoor.  With Saawariya all set for its DVD release next month, we caught up with Salman to talk about the film.
Salman, tell me a bit about Saawariya and your role in the film?
Well, when I saw the film there was not that much of a role but it was a film for newcomers and there was quite a bit to it but they took quite a lot out. I saw the director when I was launching a new film and he was going crazy for the publicity I was getting so he wanted me to do the film with him. And I look upon the cast as family, you know. There was Ranbir Kapoor who's like a kid brother, you know, and I decided that the right thing to do at that time was to publicise the film. It turns out we never really did that too much, we never shouted about me being in the movie but at the time we thought it was the right thing to do.
You'd worked with the director before hadn't you? What was it like being reunited?
Yeah, his first film was with me and it became a very quickly acclaimed movie and it made
Sanjay Leela Bhansali
who he is today. It was good to work with him again.
This is the first Bollywood movie to be produced by a Western studio – did it make the process any different for you?
No I don't think so.
Sanjay Leela Bhansali
could have had anyone produce the movie because he is one of the best that we have – he is a living legend and people wanted to see the movie. I do think some fans were disappointed that there wasn't more of me in the movie but I think that it would have taken away from the leading pair who, by the grace of God, have signed a lot of movies, they're doing really well.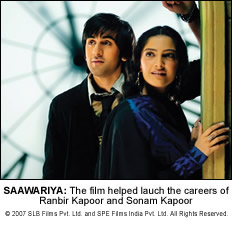 Bollywood has always had a huge following in the UK, mainly because of the Asian community, but now they are starting to break out into what might be called the mainstream. Why do you think that is?
The kind of movies that we're making are fantastic. We have everything. We have lots of colours, great music, we have action, we have drama. We make good clean films and that's important to a lot of girls here who are still rooted to our culture there. They have a lot of British and American friends who go with them to see our movies and there is a lot of them. We don't have family planning so we have six or eight kids. We have to keep them entertained!
You have a reputation as Bollywood's bad boy – what do you think of that?
There's nothing I have done that any normal man, or any guy who's not a celebrity wouldn't have done. Some people think that stars should be responsible and be an icon. Yes I am responsible but sometimes you do things and people are looking. Your fans understand that and they understand I haven't committed any murders. They've gone through what I've gone through so they relate to me and understand me. They like the way I handle everything and I'm not politically correct, I say what's in my heart. Some times it comes out right, sometimes it doesn't. I would not do something with wrong intentions.
What else have you got coming up?
I'm filming a movie in London. It was supposed to be three years ago, now I think it's next year. London Dreams it's called. And of course Saawariya is coming out on DVD in the UK this May.
Do you have a big DVD collection yourself?
I don't watch too many movies actually. I take my acting from real life and I find that if you watch too much you start to copy and imitate. I do appreciate good work, I just try not to watch it too much because I don't want to become like a clone. I have my style and perhaps I am the only one who can beat 100 people up, who can get beaten up by a wimp, who can do romance, anything.
Finally, you were in London earlier this year for the unveiling of your waxwork at Madame Tussauds'. What did you think of it?
I think it's amazing. I don't have perfect features, you know? I've got one drooping eye, a slight double chin, so I think it must have been difficult to get the likeness. I've started painting now so I know how difficult it is to merge the colours and get the right skin tone. Team work and a lot of patience! I started painting about a year ago now but it will take me a couple of attempts to do anything as good as the waxwork.
Saawariya is out on DVD and Blu-ray from 19th May, courtesy of Sony Pictures Home Entertainment.