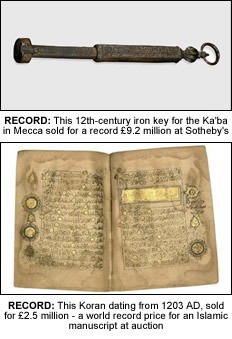 A KEY to the Ka'ba in Mecca, Islam's most holiest site, sold for £9.2 million as part of an auction of Islamic Art that broke records at London's Sotheby's yesterday.
The 800-year-old 12th-century iron key, thought to be the second-earliest of only 58 examples, sold at more than 18 times its estimate of £500,000, on a day of frantic bidding at Sotheby's.
The auction, which Sotheby's said was "most important" Islamic sale it had ever staged, generated more than £21.5 million in sales as more than 400 items were sold.
A leaf from a 7th-century copy of the Koran on vellum, probably from Medina, took £2.4 million against an estimate of £100,000-£150,000, setting a new world auction record for any Islamic manuscript.
Edward Gibbs, Senior Director and Head of Sotheby's Islamic Art department said the auction house was "thrilled" with the outcome of the sale.
"The saleroom was completely packed and we are absolutely thrilled with the results of today's auction, which is by far Sotheby's most successful in this category", he said.
"Remarkably, the sale realised more than the Islamic department's annual total in 2007, demonstrating beyond doubt the burgeoning and international demand for Islamic Art. Strong prices were achieved for top quality, rare objects across all the periods and categories represented, most notably for the Ka'ba key which set the new world auction record for an Islamic Work of Art."