 In Partnership with the British Library and Getty Images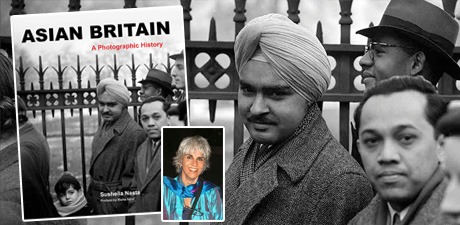 Few attempts have been made to create a visual archive that maps the Asian contribution to today's culturally diverse Britain. In Asian Britain, published by The Westbourne Press on Monday, 7 October 2013, critic, broadcaster, and literary activist, Susheila Nasta, gathers together striking, and fascinating images narrating the formation of our British Asian cultural history, many of them drawn from the British Library's collections.
From the first trade conducted between Britain and South Asia along the Silk Route to the adoption of Chicken Tikka Masala as a national dish, the ongoing mutual cultural exchanges continue to flourish today. This extraordinary photographic history draws upon culture, film, music, the military, business, the suffragette movement, as well as tracing the different phases of historic settlements of migrants from the subcontinent, the Caribbean and East Africa. The result is a touching and unique representation of a social and cultural history.
Stretching across several decades of Empire to today's period of postcolonial settlement, Asian Britain provides insights into the activities of a wide spectrum of different groups and individuals as they sought out ways to survive and negotiate their commonplace encounters with unequal social and racial hierarchies. Personalities from the arts, business, politics and sport feature, alongside pioneers, such as the first female law student at Oxford, the first Indian RAF pilots and the first Asian MPs; of equal significance are the experiences and histories of the ordinary immigrants.
Asian Britain vividly charts Britain's process of coming to terms with the historic realities of its culturally diverse past and present. Researched and compiled with academic Florian Stadtler and with a preface written by BBC special correspondent Razia Iqbal (previously BBC arts correspondent) this is the perfect book for anyone interested in the history of British and Asian Culture, photography, and current affairs.
About the authors
Professor Susheila Nasta MBE is Editor of Wasafiri, one of Britain's key literary magazines focusing on contemporary international writing which she founded in 1984. A well-known critic, Nasta is currently Professor of Modern Literature at the Open University and has published widely on Caribbean, South Asian and black British writing. Since 2007, she has directed two major cross-institutional projects, Making Britain: South Asian Visions of Home and Abroad (2007-10) and Beyond the Frame: Indian British Connections' (2011-12), both funded by the Arts and Humanities Research Council. A Fellow of the Royal Society of Arts, she has judged a number of literary prizes, written for The Guardian and Telegraph, and appeared on BBC Radio's Nightwaves and Woman's Hour. In 2011, she received an MBE for her services to Black and Asian literature.
Florian Stadtler currently lectures in Global Literature at the University of Exeter. Previously a Research Fellow in Literature at the Open University, he worked alongside Susheila Nasta on the Making Britain and Beyond the Frame projects, which explored South Asian contributions to Britain's literary, cultural, and political life from 1858-1950. He has published on South Asian writing in English and Asian British fiction and history, including: Fiction, Film and Indian Popular Cinema: Salman Rushdie's novels and the cinematic imagination and, as co-editor, South Asians and the Shaping of Britain, 1870-1950.
Razia Iqbal is a special correspondent for the BBC, and currently hosts BBC World Service's Talking Books. She was formerly arts correspondent for BBC News, hosted BBC's HARDtalk Extra, and from 2011 has been a regular presenter of Newshour on BBC World Service.
Asian Britain: A Photographic History, by Susheila Nasta, is published by The Westbourne Press and can be purchased at 
Saqi Books
.
All images are a courtesy of British Library Board.